BACK TO NEWS
30th August 2019
Eliud's Diary: 30th August 2019
Hi,
At this stage of my preparation, it is important that the body responds positively and I'm happy to report that this is definitely the case.
In an Instagram post, I commented after a recent long run I had "witnessed lots of progression." The run was enjoyable run, which I completed at around 60 per cent effort.
My breathing felt good, my muscles were both strong and relaxed and my legs were moving in an extremely good way. To me, this is positive for the future and I hope to maintain that same feeling over the next six weeks before the INEOS 1:59 Challenge.
Some people have asked how my preparation is tracking compared to the build-up to previous marathons, but I cannot compare. Every marathon has a unique preparation and the goal at the end of this race is quite different to a typical race.
A critical element in Vienna will be the role of the pacemakers. Two of my training partners, Victor Chumo and Augustine Choge, have been assigned with that role and we have practised in track sessions for them to take the lead ahead of me to replicate what will happen in Austria.
This is very helpful because it is important that running with the pacemakers feels smooth and that my legs are moving with them at the same speed and rhythm.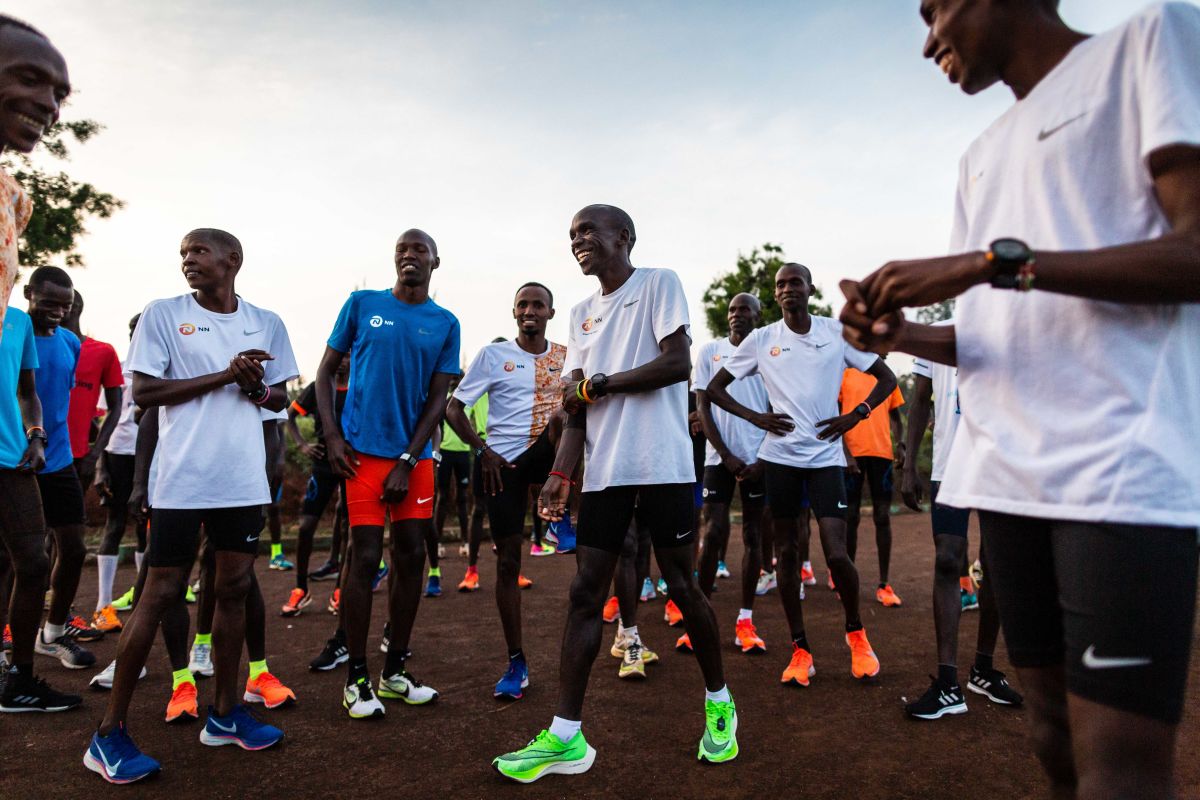 Eliud Kipchoge with his team-mates in Kaptagat, Kenya. Credit: Dan Vernon
I'm also delighted former Olympic 1500m silver medallist and 2007 world 1500m and 5000m champion Bernard Lagat has been named as one the pacemakers. Bernard competes for America but he grew up in a neighbouring village to me in Kenya and we know each other well. He has huge experience from his time running track at a world-class level and today runs marathons. Bernard will be important as a guide to the other pacers, who will benefit from his great knowledge of the sport.
The list of pacemakers that have so far been announced is hugely impressive. We have the Ingebrigtsen brothers from Norway, who are achieving some amazing results on the world stage. Meanwhile, other guys like world and Olympic 5000m medallist Paul Chelimo and my fellow NN Running Team athlete and European half marathon record-holder Julien Wanders have also committed to help out.
It is a huge morale boost for me to have these guys and many others by my side. It gives me great heart, and I fully appreciate that they have accepted a pacemaking role in Vienna. My hope is that they will scoop the medals at the Doha World Championships before going on to play their part in history for the INEOS 1:59 Challenge.
I've recently also spent time with my nutritionist, Armand Bettonviel, here at my training camp in Kaptagat. Nutrition will be another critical race day component. We've practised in training the nutritional intake I require during the record attempt. We are taking great care on getting this right.
Outside of life in the training camp, I can feel the enthusiasm and passion that my fellow Kenyans have for the challenge. From the capital city of Nairobi to Eldoret about 300km away I see INEOS 1:59 Challenge stickers on cars, buses and houses. Everywhere I go people want a piece of 1:59 and I'm sure the whole country will be glued to their TV screens to watch the race in October.
I feel such a large percentage of the global athletics community is so positive about what I'm trying to achieve and that is a great feeling.
My hope is that they can witness history being made and that I can help inspire them.
As told to Steve Landells