Vienna is the capital city of Austria and the ninth largest city in the European Union. Its population is 1.9 million which makes it the second largest German speaking city in the world after Berlin.
The Austrian capital straddles the Danube – Europe's second longest river – and in history has been the centre of the Hapsburg and the Austro-Hungarian empires.
The city centre is a Unesco World Heritage site for its rich architecture which incudes Baroque castles and gardens, as well as the late-19th-century Ringstrasse lined with grand buildings, monuments and parks.
Vienna is often referred to as the City of Music because of its rich history of composers who called the city their home, including Mozart, Beethoven, Schubert and Straus. It is also known as the City of Dreams because it was here that the world's most famous psychoanalyst Sigmund Freud lived and worked.
Vienna was named the world's most liveable city for the tenth time in a row in 2019. Each year, the international consulting firm Mercer carries out a study to assess the quality of life in 231 cities around the world. The survey compares the political, social and economic climate, medical care, education, and infrastructure conditions such as the well-developed public transportation network, power and water supply. It also takes into consideration recreational offers such as restaurants, theaters, cinemas, sports facilities, the availability and high quality of all kinds of consumer goods, as well as nature and environmental conditions.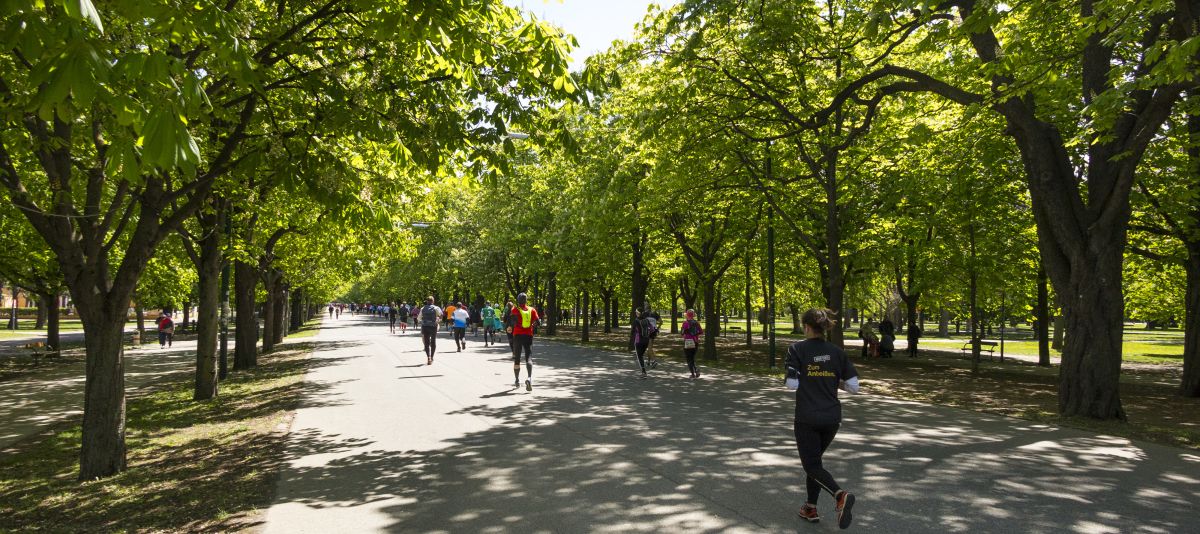 Runners run along the Hauptallee in The Prater, Vienna.
Vienna is made up of 23 districts. The INEOS 1:59 Challenge will take place in the Second District known as Leopoldstadt.
The Leopoldstadt district is dominated by The Prater which is the centrepiece of the marathon route. Known as Vienna's green lung, The Prater is a huge park which covers six million square metres and was once imperial hunting grounds.
The area of the Prater closest to the north end of the park and the INEOS 1:59 Challenge route contains a large amusement park known as the Volksprater (People's Prater) which includes the iconic Wiener Riesenrad Ferris wheel made famous by the film The Third Man.
Also in the Prater is Vienna's national stadium, the Ernst Happel Stadion which is the home to the Austrian national football team and is used for other major sporting events and music concerts. It hosted the final of the 2008 European Championships when Spain beat Germany 1-0.