BACK TO NEWS
20th September 2019
Jack Rayner on the INEOS 1:59 Challenge
Jack Rayner – The Australian snared the 2018 Commonwealth Half Marathon title and ran 2:11:06 on his marathon debut in London in April.
Without doubt Eliud Kipchoge is the distance runner I look up to the most, so when I was offered the chance to help out as a pacemaker at the INEOS 1:59 Challenge, I jumped at the chance.
It is just a unique race to be a part of and I look forward to playing my part in helping Eliud create history.
Eliud is such a graceful, smooth athlete who makes running look so effortless. He is universally respected throughout the marathon community and because he competes as a marathon runner, people feel a close connection with him and his accomplishments.
Personally, I have so many great memories of watching him run. I recall his victory in the Rio Olympic marathon and that world record run in Berlin last year. One of my favourite Eliud races came in April's London Marathon. Eliud was involved in such a good tussle with Mosinet Geremew and Mule Wasihun pushing him so hard. But somehow in that final few kilometres he managed to shrug them off. It was a truly great performance and also the second fastest time in history.
I also recall the Nike Breaking2 race in 2017. That day I was in Stanford ready to race over 5000m at the Payton Jordan Invitational race in America when, before my warm up, I watched the final stages of the race.
He was on pace to run a sub-two-hour marathon up until the final 5km and it was a great surprise he ran so quickly. At that time the performance was two-and-a-half minutes quicker than anyone else had run for the marathon. It was a huge deal.
Earlier this month I had the opportunity with the other pacemakers to carry out testing in the Prater, Vienna – where Eliud will attempt to run a sub-two-hour marathon.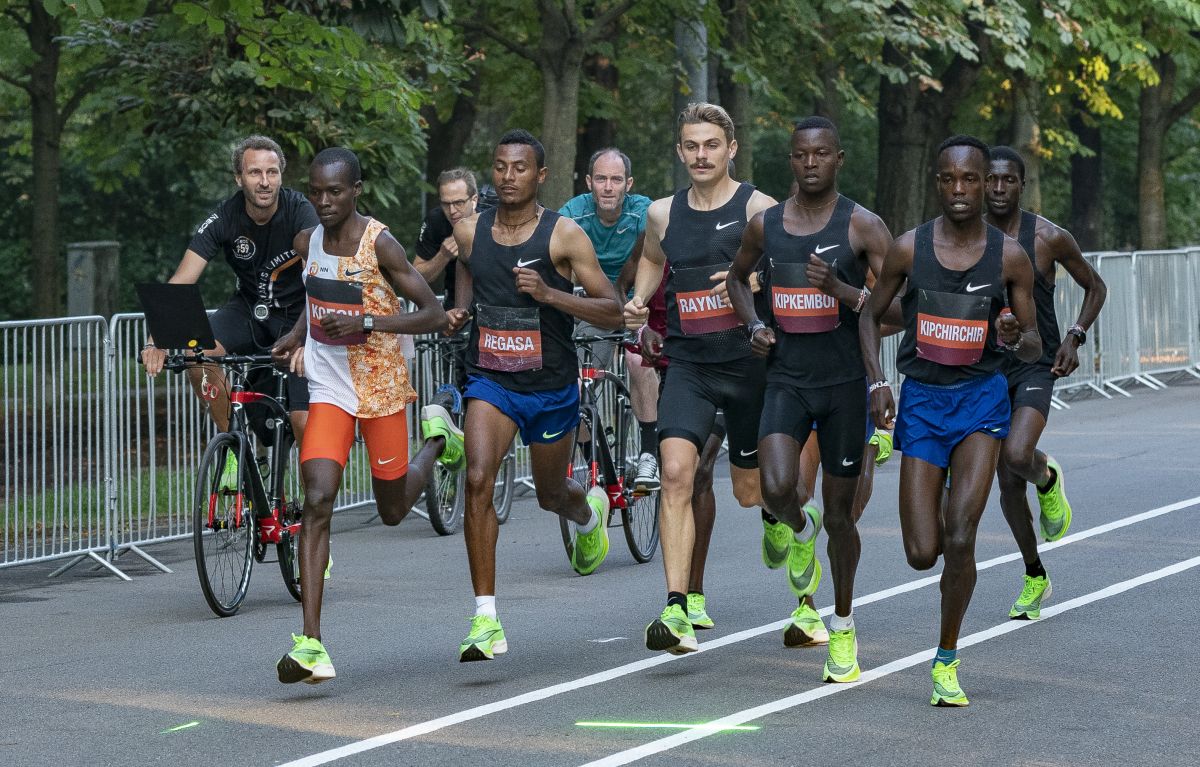 Jack Rayner and INEOS 1:59 Challenge pacemakers rehearse at the testing weekend in Vienna. Credit: Bob Martin
"I'm just stoked to be involved in an event of this magnitude. I have no doubt, Eliud will be able to run a sub-two-hour marathon and create history."
I was part of the team one pacemaker team, which will start on the Reichsbrucke Bridge (which will be the start point of the INEOS 1:59 Challenge). Bernard Lagat, the former world 1500m and 5000m champion, is our team captain, although for a spell he was unavailable, so I took over the captaincy duties.
Among the other members of the team were Shadrack Kipchirchir and Noah Kipkemboi and it was nice to get the opportunity to meet and work with them before the challenge.
I'm currently preparing for run the New York City Marathon in November, so the timing of the INEOS 1:59 Challenges works well with my preparations.
I'm just stoked to be involved in an event of this magnitude. Having practised on the course, it feels a great surface to run on, and, I'm sure on the day, Eliud will received an extra boost from the crowd. I have no doubt, Eliud will be able to run a sub-two-hour marathon and create history.